Email encryption for desktops and laptops
Overview
Email is the most important business communications system in the world, enabling organizations to efficiently interact with customers, clients, and business partners. Yet unprotected email poses a critical risk to an enterprise's most sensitive data: customer information, financial data, trade secrets, and other proprietary information. Exposure of this information to unauthorized parties can result in financial loss, legal ramifications, and brand damage.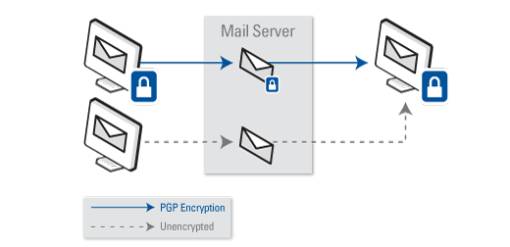 PGP® Desktop Email provides enterprises with an automatic, transparent encryption solution for securing internal and external confidential email communications. With PGP Desktop Email, organizations can minimize the risk of a data breach and comply with partner and regulatory mandates for information security and privacy.
Easy, automatic operation–Protects sensitive email without changing the user experience.
Enforced security policies–Enforce data protection automatically with centrally managed policies.
Accelerated deployment–Achieves end-to-end email encryption using the existing infrastructure.
Reduced operation costs–Result from centralized automation of email encryption policies.
Protect Files
PGP Desktop Email also enables users to encrypt and compress files for sharing or backup using:
PGP® Virtual Disk–For secure storage, PGP Virtual Disk enables storage of files and folders in a single encrypted file that is used like a removable disk drive.
PGP® Zip–For storing backups or sharing files, PGP Zip stores files and folders in a single, encrypted and compressed file.
PGP® Self-Decrypting Archive–For email recipients without encryption software, senders can create a Self-Decrypting Archive that automatically executes and decrypts files for recipients without encryption software after their successful authentication.
As a PGP® Encryption Platform–enabled application, PGP Desktop Email can be deployed with PGP Universal™ Server for central management of existing policies, users, keys, and configurations. This solution expedites deployment and enables consistent policy enforcement. In combination with other PGP® encryption applications, PGP Desktop Email provides multiple layers of security.