The solution that protects data from unauthorized and malicious software
Overview
The battle to protect your network from malware can seem insurmountable.
PGP® Endpoint Application Control provides granular, policy-based enforcement of application use to proactively secure endpoints from data leakage, malware, spyware, keyloggers, Trojans, rootkits, worms and viruses, zero-day threats and unwanted or unlicensed software. With PGP Endpoint Application Control, administrators can centrally manage, monitor, and control applications with a whitelist approach that allows only authorized applications to run, ensuring no unwanted or unlicensed software will execute on the corporate network and disrupt business.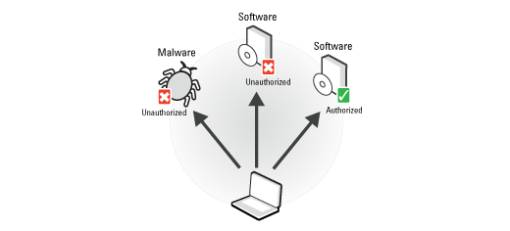 Reduces the risk of a data breach –Ensures sensitive corporate data is not compromised by unauthorized and malicious software.
Proactive and automatic protection - Reduces helpdesk and administrative burdens. Provides automatic, zero-day protection from known and unknown application threats.
Supports Compliance–Detailed audits of application execution assist in demonstrating compliance.
Business continuity–Prevents business downtime caused by proliferation of malicious software applications.
Transparent user experience–Automatic and background operation ensures user productivity is unaffected.