Network file encryption for collaborating teams
Overview
File servers have emerged as an industry-standard tool for enabling users to collaborate and share large files. Unfortunately, unprotected files pose a critical risk to an enterprise's most sensitive data: customer information, financial data, trade secrets, and other proprietary information. Exposure of this data can result in financial loss, legal ramifications, and brand damage.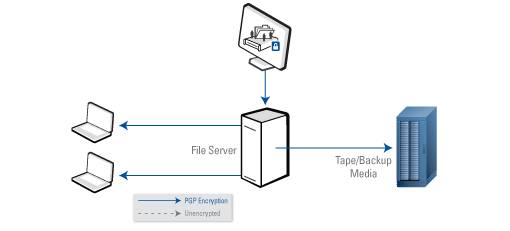 PGP® NetShare enables teams to securely share documents on file servers by automatically and transparently encrypting the files for fine-grained group access. This approach ensures that only authorized users can read or modify files, fulfilling partner and regulatory requirements for information partitioning and security.
Easy, automatic operation – Protects shared files without changing the user experience.
Enforced security policies – Automatically enforce data protection with centrally managed policies.
Separation of duties – Increases security by separation of roles between system administrators and security officers.
As a PGP® Platform-enabled application, PGP NetShare can be used with PGP Universal™ Server to manage policies for data protection, users, keys, and configurations. This expedites deployment and policy enforcement. PGP NetShare can also be used in combination with other PGP® encryption applications to provide multiple layers of security.