Protect email and data on Windows Mobile® smartphones
Overview
Smartphones enhance productivity and enable new ways of conducting business beyond the confines of the office. They contain all the confidential corporate email and data once reserved for laptops, but in a much smaller, highly mobile form factor that professionals carry with them 24/7.
However, these same devices that provide a competitive advantage also present new security risks to the enterprise. A smartphone that is lost or stolen with unencrypted data or email that is sent unencrypted significantly increases the risk of a corporate data breach.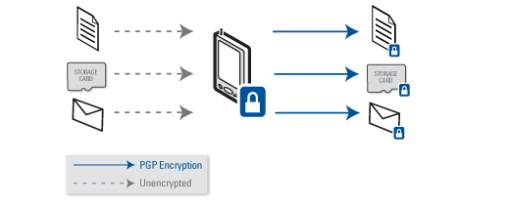 PGP® Mobile solves this problem with comprehensive email1 and data encryption for Windows Mobile smartphones and storage cards that provides powerful protection for the data stored, in transit, and shared with others.
Maximum protection – Protects email, email attachments, and data with few changes to the user experience. Email encryption happens automatically right on the smartphone which provides maximum protection by enabling true end-to-end encryption.
Enforced security policies – Leverages PGP Universal™ Server to automatically, transparently, and consistently enforce email security policies without user intervention.
Accelerated deployment – Using over-the-air deployment, centralized management, and integration with existing enterprise infrastructure.
Reduced operation costs – Results from centralized deployment, management, and consistent policy enforcement across all PGP® applications.
Strategic, leveraged, extensible approach – As a PGP® Encryption Platform–enabled application, PGP Mobile is deployed and managed using PGP Universal Server.

PGP Universal Server manages existing policies, users, keys, and configurations using a single management console across all PGP applications.
The PGP® Encryption Platform provides a strategic enterprise encryption framework for shared user management, policy, and provisioning that is automated across multiple, integrated PGP encryption applications. This enables additional PGP applications to be easily integrated as corporate needs evolve to protect the data wherever it is in transit or stored.
1PGP Mobile 9.10 supports email and data encryption for smartphones running Windows Mobile 6.0 and 6.1 Professional Edition. PGP Mobile 9.9 supports data encryption for smartphones running Windows Mobile 5, 6 or 6.1 Standard or Professional Edition.