Extending PGP email security to enterprise smartphones
Overview
Mobile devices such as Research in Motion (RIM) BlackBerry® smartphones are popular tools for digital communications, both in the office and on the road. As more employees and executives begin to carry these wireless devices, the amount of sensitive and confidential information put at risk increases. Lacking the right protection, sensitive email that is stored or transmitted on mobile devices may be breached. The resulting damages can include lost revenue, regulatory penalties, and brand damage.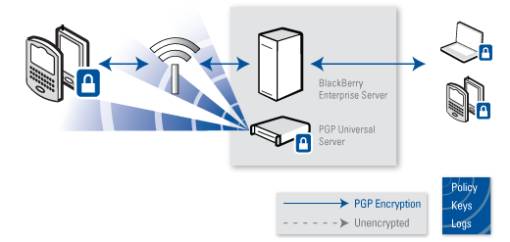 PGP® Support Package for BlackBerry® enables enterprises to extend market-leading PGP® messaging security solutions for laptops and desktops to BlackBerry smartphones. Developed in partnership between RIM and PGP, PGP Support Package for BlackBerry is already integrated into the native BlackBerry OS. It simply needs to be purchased and activated to begin providing encryption protection for BlackBerry emails.
PGP Support Package for BlackBerry is a comprehensive email security solution that provides data encryption, digital signature, secured attachments, and automated key lookup (view example screenshots). Additional benefits include:
Easy, automatic operation–Protects data with few changes to the smartphone user experience.
Enforced security policies–Automatically enforces data protection with centrally managed policies, keys and logs when using PGP Universal Server.
Accelerated deployment–Reduces setup time and speeds enterprise data protection.
Reduced operation costs–Results from fast deployment and intuitive user interface, plus the automation of email encryption policies if using PGP Universal Server.
The RIM and BlackBerry families of related marks, images, and symbols are the exclusive properties and trademarks of Research In Motion Limited-used by permission.