Secure email communications without client software
Overview
Email has evolved into the most important business communications system in the world, enabling organizations to efficiently interact with customers, clients, and business partners. Unfortunately, unprotected email poses a critical risk to an enterprise's most sensitive data: customer information, financial data, trade secrets, and other proprietary information. Exposure of this information can result in financial loss, legal ramifications, and brand damage.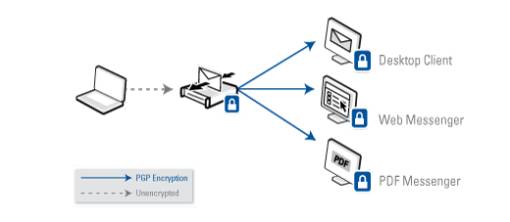 PGP Universal™ Gateway Email provides centrally managed, standards-based email encryption to secure email communications with customers and partners. By encrypting data at the gateway, PGP Universal Gateway Email ensures data is protected from unauthorized access in transit over the public Internet and at rest on a recipient's mail server. With PGP Universal Gateway Email, organizations can minimize the risk of a data breach and comply with partner and regulatory mandates for information security and privacy.
Easy, automatic operation–Protects sensitive email without changing the user experience.
Enforced security policies–Automatically enforce data protection with centrally managed policies.
Accelerated deployment–Deliver email encryption using the existing infrastructure.
Reduced operational costs–Result from eliminating training and help-desk costs through clientless operation.
Secure Delivery Solutions
PGP Corporation provides two options for deploying secure, clientless email delivery:
PGP Universal Gateway Email–Provides multiple, flexible secure delivery options for secure webmail using PGP Universal™ Web Messenger, encrypted PDF messages using the built-in PDF Messenger feature, and standards-based OpenPGP and S/MIME message formats.
PGP® PDF Messenger–stand-alone product version provides secure delivery using encrypted PDF messages, maximizing the options for communicating with a broad range of email recipients.
PGP Encryption Platform Enabled
As a PGP® Encryption Platform-enabled application, PGP Universal Gateway Email is used with PGP Universal™ Server to manage existing policies, users, keys, and configurations, expediting deployment and policy enforcement. PGP Universal Gateway Email can also be used in combination with other PGP® encryption applications to provide multiple layers of security.